Santorini Cooking Classes
Santorini Cooking Classes by
Aion Santorini
wedding venue and restaurant
Aion is a water front Bar restaurant and offer Santorini cooking classes by the beach at Skala Port Santorini
Our lessons are the perfect way for you to learn how to cook the delicious Santorini and Greek cuisine whilst at the same time enjoy the local delicacies and culture. What we …
​Do you love cooking? Do you enjoy learning about new culinary techniques? Do you want to taste something that you created? Add some unique wine flavors and become a part of the Cooking Class & wine Tasting.
In Aion we offer top-quality cooking classes for our guests, to make you feel a little bit more like home. 
What we offer is more than a mere experience of cooking, we provide you with a unique souvenir to take back home and practice in your kitchen, reminding you of the sun and sea of our island all year round! No better way to leave unless loaded up with new culinary knowledge
A blend of Santorini's best tastes and flavors with a "touch" of your effort to cook authentic Santorinian recipes are the main ingredients of the experience that is the Cooking & Tasting Experience Tour. The tour includes the a visit to a winery, a local farm, and a hands-on cooking lesson, by local experts, along with information about the local wines and finally, the pleasure of enjoying your gastronomic creations. What will you take with you? Experience the joy of cooking traditional Santorinian dishes, savor the memory of an exquisite gastronomic experience with the delicious tastes of the island, and take home a booklet with all the recipes you cooked. This tour is perfect for foodies, honeymooners, cooking class aficionados, or food and wine lovers.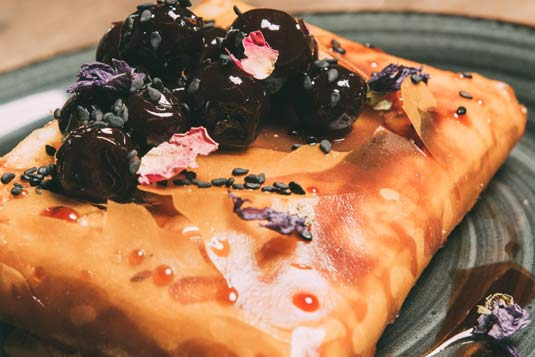 The Cooking & WineTasting Experience Tour Details
Pick up & return luxury transfer

Stroll through a local farm tasting seasonal products

Visit a family Estate winery for a unique tasting of distinctive volcanic wines

Guidance by an experienced local guide

Learn about the unique viticulture & the indigenous grape varietals

Hands-on cooking lesson (traditional cuisine) with a local chef

After the cooking lesson, enjoy lunch paired with local wine

Info Booklet  & Recipe Sheet

Liability insurance & designated driver
The Cooking & Tasting Experience Tour Info
Tour starts daily at 9:30 am

Duration 5 hours approx.
Santorini Cooking Classes in Details and costs
Description
Upon your arrival, you will enjoy wine and appetizers, as this is what we do in Greece when we have friends & family over! We will gather around the table like the Greek families do, to prepare the delightful Greek meal that offers appetizers, salad, main course, and dessert.
The exact menu will be decided the day before as I always aim for the freshest ingredients!
You will enjoy your meal and share the laughs and the Greek hospitality knowing that now you have new friends and definitely a new friend in Santorini…me!
Santorini Cooking Classes Packages
Cooking Class without wine tasting. Duration 4 hours (including the time you need to enjoy your food). Cost per person 140 euros. Minimum of 2 people per booking. Semi-Private.
Cooking Class with wine tasting. Duration 6 hours (including the time you need to enjoy your food). Cost per person 240 euros. Minimum of 2 people per booking. Semi-Private.
Wine Tasting of 8 wines from various Santorini Wineries. Duration 3 hours. Cost per person 140 euros. Minimum of 2 people per booking. Up to 8 Wines from various Santorini Wineries with a platter of Amazing Greek cheeses and fresh fruits will pair beautifully with your wines. Semi-Private.
Private. All packages above can be booked for a completely private experience. Cost upon request.
Santorini Cooking Classes Sample Menu
Pita, A kind of bread that usually is used to wrap gyros.

Tzatziki, Famous greek appetizer yogurt-based.

Ntomatokeftedes, Local Santorini tomato fritters.

Kolokithokeftedes, Zucchini fritters.

Greek Salad – Horiatiki, The most famous salad in Greece

Ntakos, Whole wheat local rusk with feta, tomatoes, and virgin olive oil.

Spanakopita, Greek spinach pie.

Mousaka, Who can resist in Mousaka?

Halvas, Semolina dessert.

Loukoumades., Served with Greek honey and cinnamon or chocolate.
What's included
Welcome appetizers.
Anything you will need to attend this cooking class.
Recipes Card.
Lunch with your delicious cooking paired with wine.
Professional cook & Sommelier.
Santorini Wine Tasting package. Up to 8 Wines from various Santorini Wineries with a  platter of Amazing Greek cheeses and fresh fruits will pair beautifully with your wines.
Fresh vegetables from our Garden.
Certificate of Attendance.
Aprons to keep.
Wine description card, with all the wines you have tasted.
Mineral water, Soft Drinks, Coffee.
What's excluded
Transportation. Can be arranged upon request at an extra cost.
Gratuities.
Notes
-Vegetarians or Pescatarians can be accommodated only with a private booking as it is required to be designed a totally custom menu.
-In order to participate in our cooking class, a waiver form must be signed as you will truly participate in the cooking process, you will not just observe.
-Guests with special dietary needs, food allergies, and sensitivities cannot be accommodated.
-Within this website, you will find Greek recipes in English as all the recipes are in the translation process from Greek to English.
Feel the Greek vibe! Cook like a Greek! Enjoy the tasty side of life! Book now at info@santoriniTravel.com
AION BEACH BAR & RESTAURANT SERVICES
PRIVATE EVENTS

We offer personalized services for an array of private events, ranging from birthday celebrations to a very special moment and we make sure we cater every little detail to make your event special. With the sun slipping below the horizon to illuminate one of the most romantic backdrops you could imagine, our restaurant is the place to make your personal moments truly special. Our staff, the mesmerizing atmosphere and the exquisite menu will create an experience that will last for a lifetime.

WEDDINGS

Celebrate your wedding reception at your own choice of location by having us organize your dinner arrangements for up to 12 people or get your party started with our delicious finger food all carefully prepared and served by our experienced staff. For more information and special requests please contact us.

CHEF ON DEMAND

Making that special moment even more amazing with our Chef on Demand. An unforgettable candlelight dining experience with superb culinary dishes enjoyed in the privacy of your suite's veranda. Prepared with the finest ingredients and served with the best of wines the island has to offer, our chef will guide you through the menu step by step. An experience that will surpass all your expectations.
YOU MIGHT ALSO BE INTERESTING TO DO IN SANTORINI