Transportation in 

Santorini

 Island Buses
The main bus terminal in Santorini is in Fira which is the capital of the Island. Transportation around Santorini Island is made easy by an efficient, affordable bus system.
Transfers, Tickets and Timing
Public bus transportation (KTEL) on Santorini Island is efficient and affordable. It is used by locals and tourists alike. Fira or Thira (the spelling depends on which alphabet you use) is Santorini's main city, and home to the central bus station. Buses run to/from Fira to popular tourist destinations including: Perissa (Black Beach), Kamari Beach, Akrotiri (Red Beach), Oia, as well as Athenios port, and the airport. All journeys are under an hour. There are no buses that run directly from one side of Santorini to the other. Visitors who hope to travel to both sides of the island will become very familiar with the station in Fira where transfers occur.
Ticket price depends on the destination, but are usually under two euro. Tickets are purchased on the bus from the driver or a conductor. Be wary of anyone selling tickets elsewhere. Keep your ticket until the end of your journey.
Buses run from approximately 7 A.M. to 10 P.M., though in the high season they run later. In winter most routes run every 90 minutes while in summer they run as often as every half hour. Schedules are pinned or glued to boards at bus stops but they change frequently. Check with your hotel for the most current schedule.
Order from Chaos
It is a misconception that buses run on "GMT" (Greek Maybe Time). Buses do tend to stick to their schedules. Those schedules just change…
Fira's bus statio It is an open air terrace with buses packed in a tiny space and people all around. Crazy, but it works! The station is just south of the main square on a one-way side street. Buses may be unlabeled and empty when you get there. Know what time your bus is supposed to leave and be patient. Your driver will most likely appear out of nowhere just before departure. Look for your destination to appear on the front of a bus and get in line, fast!
Buses have luggage compartments underneath. Once onboard, expect air conditioning and comfort, if it's not too crowded. The hour just before sunset is the most popular time for bus travel, especially to Oia. Expect to stand then if you can get on at all. Smart travelers will take an earlier bus!
The ride itself will be exciting as the driver zips around steep spiral turns and navigates cliffs that drop to the sea. You may feel like you are about to fly out a window but you will be thankful you did not rent a big car. Watch your belongings and keep your hand on your wallet.
RELATED
Santorini Private Transportation
We provide transfer services with Private Cars / Taxi, Mini Bus or Buses up to 53 seats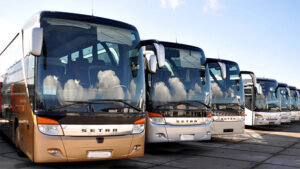 Santorini wedding transportation, With fully Aircondition Mercedes buses and Luxury mini bus for small and bug groups of guests. Santorini travel has availability for 55 seats buses for your wedding guests transfer to the wedding venue for the ceremony and to reception after the ceremony. We can also arrange the transfer back to the hotels after the reception in late hours .
You can send us an e mail at info@santorinitravel.com or call at any time + 30 6944803339
The Cost of your transfer is depends the number of your guests – More people less cost per person!
We are available for any Santorini Transportation on the island 24 hours to drive you around the island with the best prices. If you come from the port or the Airport and if you are one person or a big group we are happy to give you are competitive prices with our Mercedes bend Taxi or with the our  luxury Mini buses and coaches.
All costs and taxes are included in the prices: travel, driver, fuel, VAT,  taxes, parking, full insurance. The price quoted is the price you pay. NO supplement for night service, NO supplement for public holidays, no worries about traffic and the taximeter.
We pre arrange transportation  for you from any point to another and at any time you wish.
We specialized in after hours wedding transfers We do provide this service as we believe is the best way for our guests to avoid any pitfalls with their transportation and especially the first time visitors in Greece.
We strongly recommend you to pre arrange your wedding transfer from the hotel to Wedding venue and back after the reception
For any wedding transfer in Santorini you can contact us via our booking form below